Universal Battery Chargers
24 Volt Chargers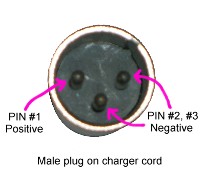 Traditional polarity on mobility chargers using the XLR 3 pin connector. NOT followed by Everest-Jennings.
At ChargingChargers.com, we carry several Universal Power switch mode battery chargers specifically built for the mobility market. These have the 3 pin XLR connector found on about 90% of the wheelchairs and scooters in use. There is a 2 amp AGM unit, two 5 amp fan cooled units (one for AGM and one for true Gel batteries), a 5 amp heat sink cooled AGM unit, and an 8 amp AGM charger. The Universal Power chargers are microprocessor controlled switch mode chargers, using 3 stage charging, which provides efficient charging to the battery charger's maximum output (constant current), and monitoring of output voltage as it rises to the charger's absorption set point. The battery charger then maintains this absorption voltage (constant voltage) until the battery is fully charged. The charger then drops the output voltage to the 3rd mode, or "float" stage, which is safe for long term battery maintenance.
All except the 8 amp are universal input (100 to 240 VAC, 50/60 Hz)chargers, and all have a true float mode for long term battery manitenance. They are a very good buy for a mobility charger, and have a very high reliability record. They are used as the OEM charger by some of the chair companies.
Check out our selection of industrial quality battery chargers from Universal Power Group. At ChargingChargers.com, we select our battery chargers for reliability, design and function, warranty, and value. We can help with selection or advice by email (info@chargingchargers.com) or our tech line: (541) 582-4629. We deal with case pricing for quantity users.
For more information, see our battery charging tutorial.
Frequently asked questions about battery charging
Be sure to check out our Tutorials!
Home
| Universal Battery Chargers