Wheelchair Battery Chargers
and Mobility Scooter Battery Chargers
24 Volt Chargers - PRIDE and most others using a 3 pin XLR, EXCEPT Everest-Jennings
FOR 24 VOLT 4 AMP APPLICATIONS, AGM AND GEL. 2 YEAR WARRANTY
FOR 24 VOLT 5 AMP APPLICATIONS, AGM AND GEL.
You need to know what type batteries are in your chair/scooter for the above chargers. AGM type batteries are also known as 'sealed lead acid' or 'spill proof'. True GEL batteries say 'GEL' on them, or have a 'G' in the part number. Some chargers are generic in their charge profile and do both types, like the Soneil.
FOR 24 VOLT 2 AMP AND 3 AMP APPLICATIONS
SONEIL 4 AND 8 AMP.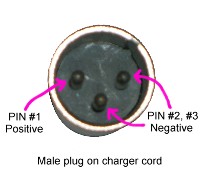 Traditional polarity on mobility chargers using the XLR 3 pin connector. NOT followed by Everest-Jennings and a couple of other brands.
At ChargingChargers.com, we carry Universal Power Group, and one MobileCharge, switch mode battery chargers specifically built for the mobility market, that is wheelchair and scooter applications. These have the 3 pin XLR connector found on about 90% of the wheelchairs and scooters in use. This includes all Hoveround, Permobil, Drive Medical, Active Care, CTM, Sunrise, Heartway, Bruno, Wu's Tech, Ameriglide, Major's Mobosist, Balder, Merits (all 2006 and later models), Pride (except Victory, Wrangler, Sundancer, Legend, Rally), Golden (except Companion), Shoprider (except Sunrunner Deluxe and Lithium-ion battery models), Ranger (except Spirit), PaceSaver (except Espree), EV Rider (except Caddy and SuperLight3). Also works with Amigo (FD, MC, MCX, TM, and TMRD only), Quickie (all models with an off-board charger), Invacare (except Lynx L3XB, L3XR). May not be compatible with E&J, or Worldwide Seating products, as Everest-Jennings and these others reverses the wiring on pin 1 and 2 in the connector. Works with almost all other mobility scooters and power chairs that have an off-board charger & XLR connector.
The Universals are a 2 amp, 3 amp, 5 amp, or an 8 amp unit available as AGM battery specific (also known as sealed lead acid, SLA), or a 5 amp true GEL battery specific model, or a heat sink cooled (non-fan) 5 amp AGM unit. The UPG chargers are microprocessor controlled switch mode chargers, using 3 stage charging, which provides efficient charging to the battery charger's maximum output (constant current), and monitoring of output voltage as it rises to the charger's absorption set point. The battery charger then maintains this absorption voltage (constant voltage) until the battery is fully charged. The charger then drops the output voltage to the 3rd mode, or "float" stage, which is safe for long term battery maintenance.
The 2, 3, and 5 amp models are universal input (100 to 240 VAC, 50/60 Hz)chargers with a true float mode for long term battery maintenance. They are a very good buy for a mobility charger, and have a very high reliability record. They are used as an OEM charger (relabeled) by some of the chair companies. You don't need to pay an exhorbitant amount simply because it has a medical application.
The MobileCharge24 is an 'in-car' charger that plugs into a lighter socket or power port in a car, truck, or van, and charges a 24 volt wheelchair or scooter with the 3 pin XLR plug connector while the vehicle is running, and up to 2 1/2 hours after the vehicle shuts off, if the vehicle socket remains 'hot' after the key is shut off. This 12 volt to 24 volt DC battery charger is a 3 stage smart charger, that won't overcharge the wheelchair/scooter, and won't discharge the vehicle starting battery, and is safe for AGM or true Gel batteries. We have had numerous inquiries on such a charger, and now offer an excellent unit for a very decent price.
Mobility applications have their own peculiarities. Wheelchairs and scooters may be deeply discharged before recharge, or used for a few minutes and put back on the charger, or left on a charger for long periods of time. A microprocessor controlled charger is the way to go for maximum battery life and run time, which is the point for a mobility device. Lead acid batteries, including the AGM and true GEL types, like to be kept fully charged. Contrary to some rumors, or even statements from wheelchair/scooter outlets (that usually sell batteries), it is not beneficial to run a true GEL battery dead to deal with a memory problem, because they have no memory issue like a NiCad battery does. The batteries used in mobility applications are designed to be run dead if necessary, however, and there are charts with expected number of cycles depending on the depth of discharge. The deeper the discharge, the fewer cycles to be expected. So, putting the chair or scooter back on the charger when not in use for a while (like during lunch, for instance), or definitely overnight, keeps the average depth of discharge higher and will give longer battery life. The smart chargers like the Universals or the MobileCharge excel in this type of use. While the typical design life of a lead acid battery is about 5 years, typically batteries used in mobility applications last about 2 to 3 years, because of the type of use (cycling almost daily), so maximizing life with a good charger is cost effective.
Why pay double or triple the price for the same quality charger, simply because it comes from a medical supply store?
At ChargingChargers.com, we select our battery chargers for reliability, design and function, warranty, and value. We can help with selection or advice by email (info@chargingchargers.com) or our tech line: (541) 582-4629. We deal with case pricing for quantity users.
For more information, see our battery charging tutorial.
Frequently asked questions about battery charging
Be sure to check out our Tutorials!
Home
| Wheelchair and Scooter Battery Chargers