SEC America Model 364 DC Converter
24 VDC to 13.8 VDC at 50 amps continuous
The SEC America Model 364 DC Converter is a US built 600 watt unit, of the highest quality. The SEC unit is highly efficient, which provides cool operation, high reliability, and long life expectancy for the converter and the equipment which it powers. The design makes this performance possible over an extremely wide operating temperature range(the best we have seen) and under the most rigorous vibration and shock conditions. Only top quality components are used and the circuit boards are fully potted. These units may cost more than others, but are fully suitable for military, industrial, scientific, and other applications where exceptional electronics are demanded.
Click image for larger picture, "Back" button to return
Part#: Model 364

SEC America
50 Amp Continuous
DC to DC Converter

$615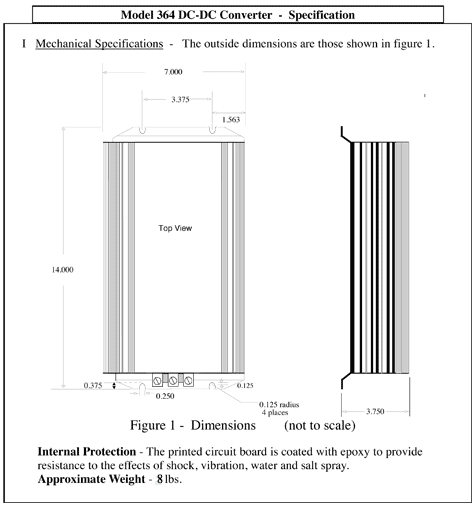 Electrical Connections
Location - Input and output connections are located on a barrier block and are configured as shown in Figure 2.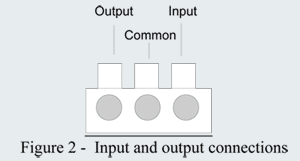 Input Conditions
Normal input voltage operating range -- 22.0 volts 29.0 volts
High input voltage shutdown -- shut down at input voltage in the range between 30 VDC and 32 VDC.
Low voltage shutdown -- shut down at input voltage in the range between 18 VDC and 20 VDC.

Output Conditions
Output RMS voltage - Factory set between 13.6 VDC and 13.8 VDC
Output Regulation - < 0.1 V for all load values
Output Ripple and Noise - < 50 mV RMS
Output Current - 0 to 50 ADC continuous duty over the entire operating temperature range

RF signal transparency
High pass filters are encased in the converter to allow RF signals that are injected at the input terminals to pass freely to the output terminals in a frequency range ensuring PLC4 compatibility.

Protection mechanisms
High input voltage shutdown @ 30-32 VDC
Low input voltage shutdown @18-20 VDC
Electronic short-circuit protection on output - will operate continuously into a short circuit without sustaining damage
Input fuse protection on DC input side against reverse polarity connection

Cooling - Convection cooled

Efficiency - Minimum of 89% at full load
Operating Altitude - 0 to 6,000 meters
Humidity - 0 to 95% condensing
Operating Temperature - Minus 35C to plus 65C
For technical information regarding SEC DC-DC Converters, be sure to visit SEC America, LLC - a leading US built power converter manufacturer. SEC America DC Converters